Sunday's Bitcoin crash wiped around 16% off the price of the number one cryptocurrency, bringing with it the whole of the altcoin market. Why did the crash happen? Was it the Xinjiang power outage, or was it the rumour of the US treasury about to bring money laundering charges to unspecified crypto institutions? Or was it just that the overextended crypto market just experienced a nice, healthy correction?
It wasn't really expected. Just a hand full of days after Coinbase had made its debut on the Nasdaq stock exchange. Everything looked rosy as Bitcoin reached a new high of nearly $65,000. Altcoins were surging, and it looked like the next leg up was just getting started.
According to analyst Willy Woo, the reason for the crash was the blackout in NW China where a large amount of the world's Bitcoin mining is located. This caused the mining hashrate to nosedive spectacularly and huge mining pools such as Antpools, Poolin, and Binance pool hashrates fell 24.5%, 33% and 20% respectively.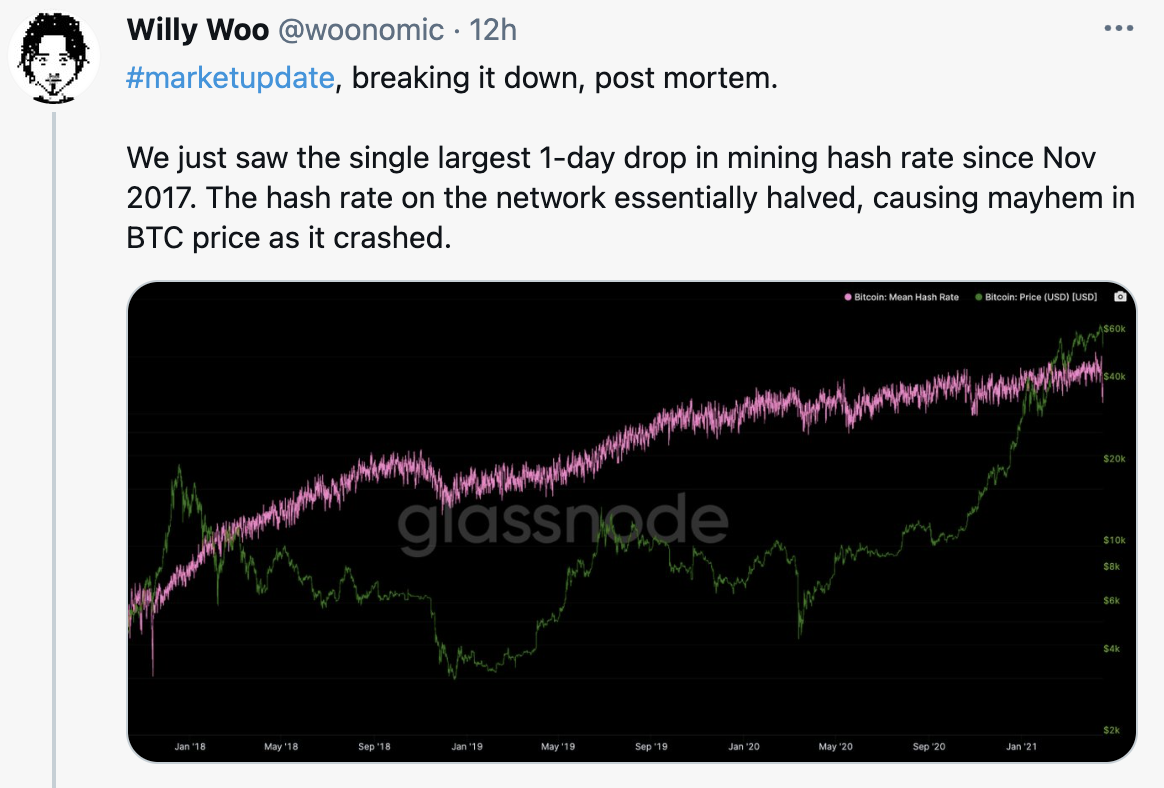 However, Adam Cochran, partner at Cinneanhaim Ventures, certainly didn't agree with Woo's assessment:
"The idea that a power outage last night in a mining region in China led to the dip in $BTC is utter nonsense, just like the spurious correlation graphs above. But even worse, when you run the math *there is no correlation* If someone is confident in a correlation and has enough data to make a graph, ask them for the receipts. If they have no idea how to run a regression test, then they don't actually know if its correlated or not."
One of the other main reasons said to have caused the crash was the rumour that the US treasury was bringing charges against unspecified financial institutions. If true, this certainly could cause a lot of panic in the markets. However, at time of writing there still doesn't appear to be any substantiation for this rumour.

India and Turkey have recently made negative noises about Bitcoin and cryptocurrencies. The central banks of both countries have made statements as to partial and full bans of cryptocurrencies. However, there doesn't appear to be any new news on this and therefore it's not at all clear if this had anything to do with Sunday's crash.
Finally, possibly the main reason for the weekend dip was that simply, a correction was due. Bitcoin had been going up rapidly since March 25, and had added around $15,000 to its value. This could be seen as a healthy correction to enable Bitcoin to continue on its upward course.