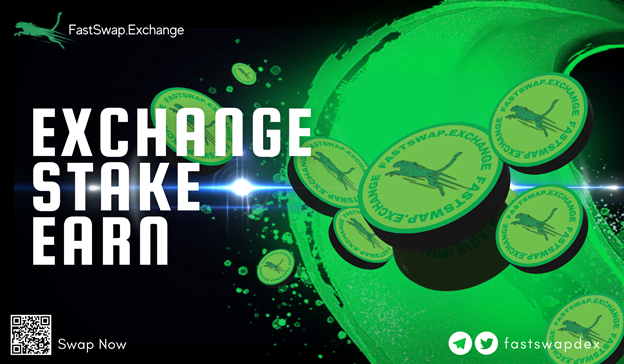 Fastswap, a decentralized exchange for ERC20 tokens, is set to release a liquidity aggregator with v2.0 update on February 28. The update follows the successful launch of Fastswap v1.0 and v1.5 that went live on January 29, 2021.
The latest update will bring additional liquidity, pools, staking, and UI/UX improvements to the decentralized exchange. It will also usher in technical improvements to the DEX.
FastSwap is set to integrate Binance Smart Chain. BSC migration of its platform is launching in the second week of March 2021. Users will be able to swap, add liquidity, stake & farm on Binance Smart Chain.
BSC is one of the fastest-growing smart contract networks, and the integration of BSC support on FastSwap would enable the DEX to get a foothold in the highly competitive DEX market. Users will be able to swap BSC pairs directly from Fastswap and provide more liquidity to the DEX.
The upcoming updates are part of the roadmap from FastSwap to attract investors and traders to use the platform. Similar to Uniswap and Sushiswap, Fastswap incentivizes liquidity providers by providing staking yields. Furthermore, 100% of the trading fee on the platform will be given to FAST token holders for the next one year. Also, every trader that uses FastSwap will be given quarterly airdrops.
While some DeFi services seem somewhat obscure, Fastswap is very transparent in its simplicity. Pairs of exchanges can be set up easily using smart-contracts available to everyone with an easy-to-use interface for trading. There are over 50 supported tokens that can be swapped or exchanged on the Fastswap DEX platform.
Fastswap is fully audited internally, with external audits in process to ensure the full security of funds and prevent bugs that have crippled other decentralized finance protocols. Also, 5% of the total supply of FAST is marked for security and bug bounty. This makes Fastswap one of the few DEX with dedicated funding towards security.
The DeFi market is worth over $36 billion and continues to grow as more crypto investors look for projects to invest their funds. With its simple interface and incentives, Fastswap is in the right position to gain a foothold in the future.
Fastswap has begun listing its tokens on different exchange platforms, including Gate.io, Bilaxy, and Uniswap. Further information is available on Coinmarketcap, Coingecko & Telegram.
Source: Dcforecasts