The Fantom price has been in a relatively tight range in the past few days. The FTM token is trading at $1.2595, where it has been in the past few days. The price is about 34% below the all-time high. This brings its total market capitalization to more than $3.1 billion.
What is Fantom crypto?
Fantom is a third-generation blockchain project that is relatively similar to Ethereum. It simply forms a foundation for building decentralized applications (DAPPs) and decentralized autonomous organizations (DAOs).
In the past few weeks, demand for Fantom has jumped substantially as the number of developers building in its ecosystem rise. Data compiled by DeFi Llama shows that there are about 35 DeFi projects in its ecosystem.
These DeFi platforms have more than $2 billion in total value locked. This makes it the seventh biggest platform after Ethereum, Binance, Solana, Terra, Polygon, and Avalanche. Some of the DeFi platforms using Fantom are AnySwap, SpookySwap, Bereft Finance, and Scream.
After rising sharply in the first few week of September, the Fantom price declined sharply as investors remained concerned about fear in the market. This fear was caused by the regulatory challenges in the United States and China. Also, it was caused by profit-taking and fears of default by the American government.
Fantom price prediction
The four-hour chart shows that the FTM price has been in a tight range in the past few weeks. It remains at the same level as the 25-day and 50-day moving averages. It is also slightly above the key support level at $1.00, which was the lowest level in September. At the same time, the Fantom price is along the descending trendline that connects the highest levels in September.
Therefore, the outlook of the FTM price in October is neutral. A bullish breakout will be confirmed if the price moves above the key resistance at $1.300.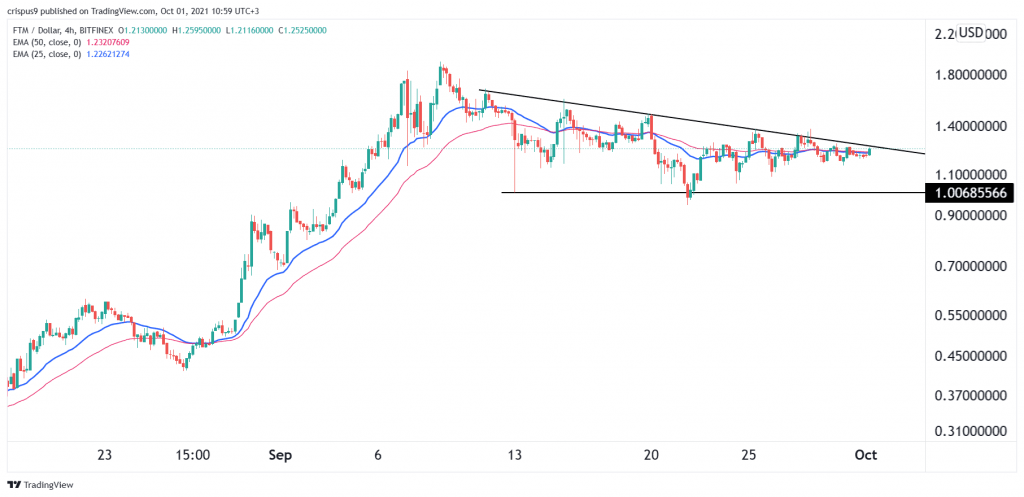 Source: investingcube.com