Ethereum developers are forging ahead with the proposed changes to the Ethereum network that are planned for the Summer, saying that users of the network are happy with the alterations. At the same time, Ethereum miners are continuing to voice their disapproval at the approaching reduction of their fees.
The argument is over the implementation of EIP 1559 which aims to resolve the issue of the inaccuracy of gas fee estimates. How it works is that it will make the sending of transactions far more fluid, while at the same time making ETH scarcer.
This is achieved by burning the base fee of each transaction, which removes ETH from the circulating supply. As more ETH is burned this should also make the price of Ether rise.
Why the miners are angry is that this proposed move will reduce the fees they receive, prompting some of them to voice calls for a strike. The strike would take the form of miners redirecting their mining power to Ethermine.org, a mining pool.
The miners say that the treatment they are receiving from the developers is not what they deserve, and they point to how they have kept the network secure all this time.
Developers say that their planned changes are popular with Ethereum users and that more predictable transaction pricing will reduce overpayments and should lead to a more deflationary token.
In a quote from an article on Markets Insider, Lex Sokolin, the co-head of fintech at ConsenSys said that the network fees will go:
"from having an unpredictable and unbounded pricing mechanism to something that is much more predictable."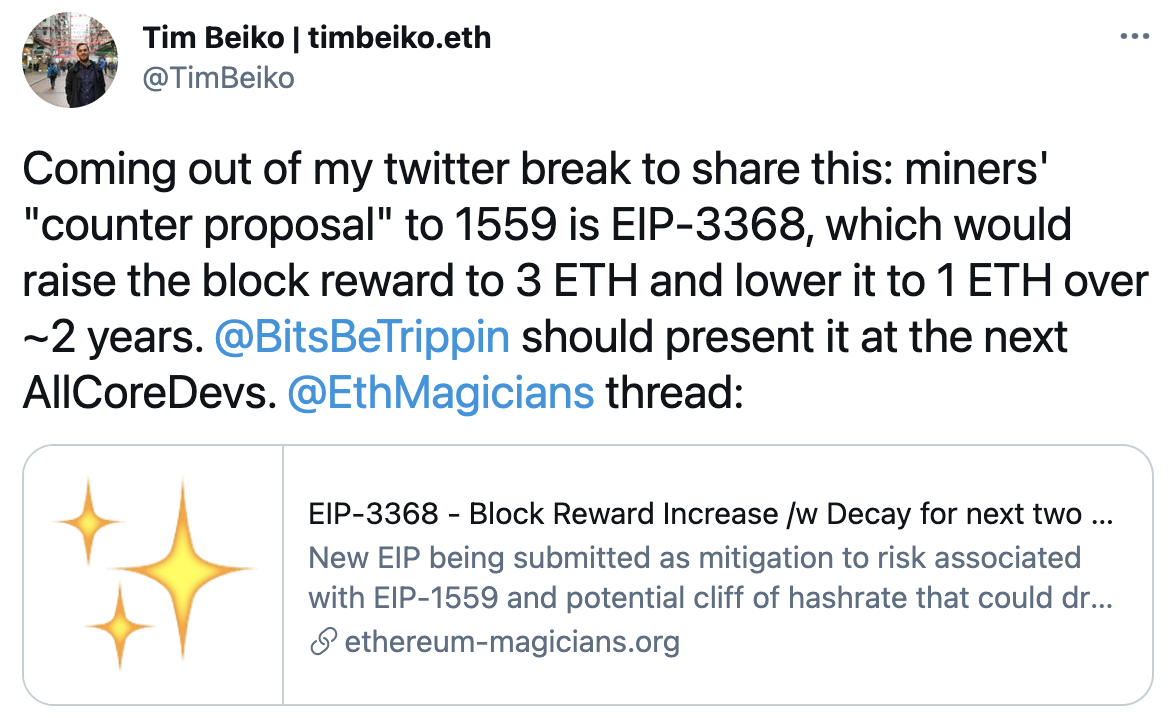 A solution to the disagreement could potentially be in the air as some miners are putting forward their own Ethereum improvement proposal which would see mining rewards rise before being gradually lowered over time. 
Source: CryptoDaily