The ATOM token from Cosmos has been underperforming as its price has been flat in a no-trade zone.
The ATOM token from Cosmos continues to solidify, with no clear indication of where it will go next.
Cosmos stays still
Even though Cosmos generated a lot of buzzes this year, ATOM is trading sideways.
After a lengthy period of stasis, the native token for the so-called "Internet of Blockchains" has seen its price drop, indicating that a rise in volatility is on the way.
In recent months, Cosmos has been hailed as one of the most promising eco-systems in the crypto community, with projects like JUNO and Osmosis gaining traction. On the other hand, ATOM has remained entrenched in a $5 price range since the beginning of the year. On the three-day chart, the 100-day moving average at $26 acts as support, while the 50-day moving average at $31 appears to be acting as resistance.
ATOM appears to be caught in a no-trade zone as long as it trades between both levels. A three-day candlestick close outside the 100-day and 50-day moving averages, on the other hand, should predict where its price will go next.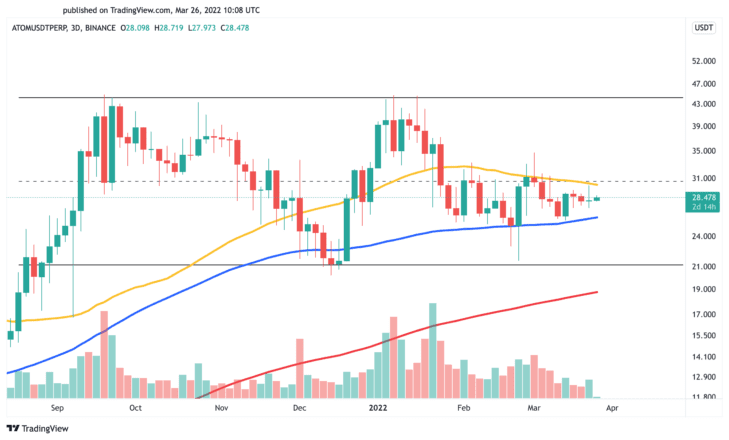 When looking at the three-day chart, ATOM's ruling pattern is revealed to be a parallel channel formed in early September 2021. After breaking out of the no-trade zone, this technical setup may present prospective trading goals for ATOM.
Cosmos may be able to surge towards the channel's top trendline at $44 if a bullish impulse drives it over $31. However, if sell orders grow and the $26 level is no longer considered support, the price may fall below the channel's bottom border at $21.
Given ATOM's current uncertainties, many traders are likely to remain on the sidelines, waiting for confirmation before taking any long or short bets.