A BTC Storm is brewing and bitcoin could see huge volatility in the near-term and mixed price action as of late which made it confusing as to where it will trend in the mid-term as we are reading more in our latest Bitcoin news.
The cryptocurrency is seeing some signs of strength with the price rebounding from the recent lows as the bulls are looking to target the $33,000 resistance. The bear case for the cryptocurrency is showing some stronger sense over the past few days but it remains unclear as to whether or not this low sentiment among investors is indicative of another downside. One trader noted that it is only a matter of time before BTC makes a huge movement. This means that where it will trend in the short-term will be influential in terms of the mid and long-term outlook.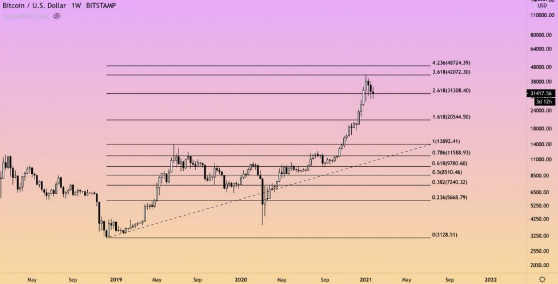 BTC and the entire crypto market saw some tempered momentum over the morning which has come about following the long bout of trading in the lower $30,000 region. At one point, bears were strong enough to force the cryptocurrency below $30,000 but the buying pressure is being significant and helped to catalyze a rebound. Another trader explained that he is watching for an explosive near-term movement at $42,000 that is a potential upside target and the $20,000 being his downside target.
At the time of writing, BTC is trading over 5% at its current price of $32,150 which marks a surge from recent lows at $29,800 that was set a day ago. The rebound from these lows outlined how important the buying pressure below $30,000 is and could signal that BTC is ready to see more gains in the near-term in the days and weeks ahead. So long as BTC is able to maintain the momentum the next key resistance to watch is the $33,000 and a break above could lead it higher.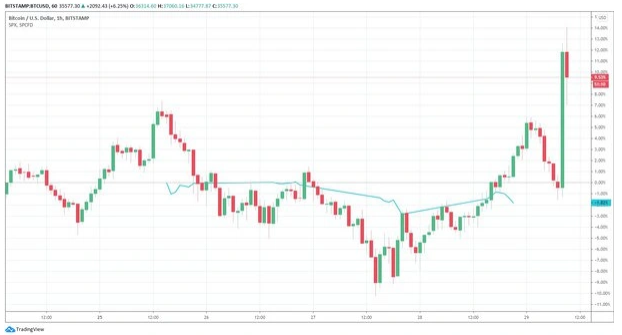 A BTC storm is brewing as one analyst explained that he is watching for massive near-term volatility so if the bulls are able to take control, he expects a move to $40,000 to come shortly after. If the bears take control, he noted that a move down to $20,000 could be imminent.
"Weekly trend suggests that, we either: – bounce from here 2.618 (31,300$) and retest resistance 3.618 (42,072$) – drop from here 2.618 (31,300$) and retest support 1.618 (20,500$). Whatever happens from here will be big, loads of opportunities regardless of direction."
Source: dcforecasts.com