BTC remains stable above the $58K region if it failed to overcome the $60K region while other altcoins such as DOT and UNI added more gains and reduced Bitcoin's dominance so let's read more in our latest cryptocurrency news today.
Following a day of enhanced volatility, BTC remains stable at $58 after failing to overcome the $60K region. Some altcoins used the opportunity to reduce the market dominance with more gains including DOT that neared $40 and UNI surging by 10%. The past few days were quite volatile for the main cryptocurrency as BTC went from breaching above $60K to a drop to $53,000 before reclaiming $7000 again a few days ago.

Since then, BTC calmed a bit and it dipped to $57,000 once again with the cryptocurrency jumping to an intraday high of $59,400 and retracing north of $58,500. Its indecisive movements and inability to resume the bull run caused the asset to lose some of its market dominance. The metric comparing BTC's market cap with all altcoins dropped to 60% after being well above the 62% earlier this week.
If the number one cryptocurrency resumes its bull trajectory it will have to overcome the first key resistance at $59,720 and $60K according to the technical aspects. Most of the larger-cap altcoins remained stagnant on a 24-hour scale and ETH is about 1% up since a day ago which means that the second-biggest cryptocurrency stands above $1800.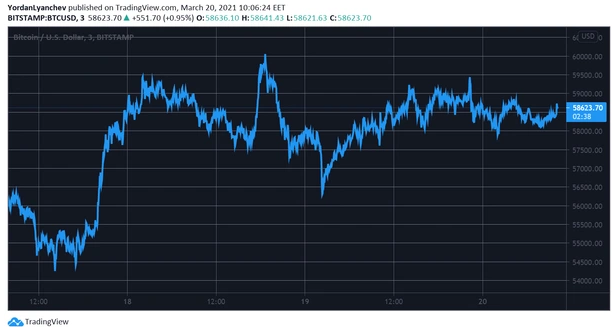 BNB increased by 2%, ADA by 1%, LINK by 2%, XRP by 3% but DOT and UNI were the most impressive gainers from the top ten altcoins. DOT surged by 8% and almost hit the $40K price tag while UNI increased by 10% and reclaimed $33. The lower-cap coins were more volatile as BitTorrent's BTT was the biggest gainer after adding 83% to its value and 160% in the past week. The developments pushed the market cap to above $1.8 trillion after the short red market developments during the week.
Also, we saw Cardano's ADA surge after the official listing on the coinbase Pro exchange. After the recent announcement from Coinbase, ADA rose about 3.2% in less than an hour and reached $1.30 over the past day as the cryptocurrency posted a 15.3% rise in the past week. ADA hit an ATH in February when it hit $1.45 and the CEO and creator Charles Hoskinson hinted a few times the partnerships and announcements ended up boosting the rally.
Source: Dcforecasts