Widely-followed veteran trader Peter Brandt characterizes the current Bitcoin correction that took the leading crypto asset from an all-time high of $64,863 down to $52,829 as mild.
In a new tweet, the trader who nailed Bitcoin's collapse in January 2018 looks at the history of BTC corrections during the 2015-2017 bull market and the current boom cycle.
"[A] drawdown in Bitcoin of 20.0% to date is very mild historically. There is a strong history of BTC bull trends to test the 18-week moving average (currently at $46,615). I personally doubt such a retest will occur, but Bitcoin has a history of pulling surprises."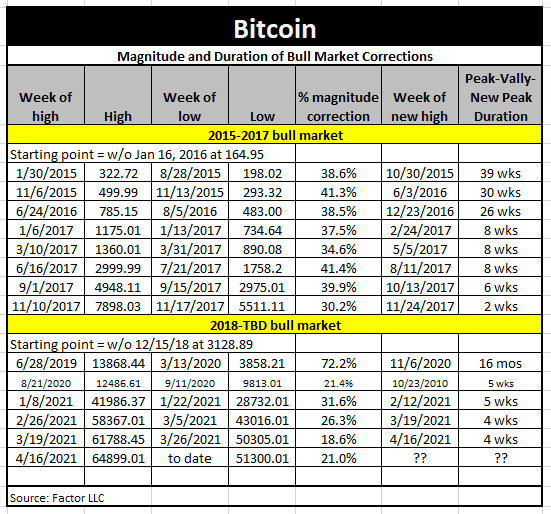 Calculating the percentages presented on Brandt's table, which involves 14 retracement events, BTC has an average correction magnitude of 35.22%. A drawdown to the 18-week moving average at $46,615 brings the retracement from $64,863 to 28.13%, which is significantly closer to the average correction magnitude.
According to Brandt, the current correction is born out of the laser-eye trend, a movement that encourages members of the crypto community to use laser-eyed social media profile photos to cheer on Bitcoin's rise to $100,000.
"The crypto markets are currently undergoing a 'laser-eyes' correction. The chances of a correction in cryptos are directly related to the prevalence of laser eyes on Twitter. Want the correction to end? Get rid of your laser eyes."
In an interview with Laura Shin, Brandt explains that the laser eyes trend reveals the hubris of market participants which could signify that BTC's ascent may be taking a breather.
"Over enthusiasm in any market is always a warning not to turn from a bull to a bear or to liquidate long holdings or it will liquidate an establish position, but it indicates that it's gotten a little frothy… The more people put the laser eyes, you know at least the market's going to get choppy for a while and stop going straight up… When people start pounding their chest in public, 'I own Bitcoin. I own Bitcoin. Look at me. I have laser eyes.' That's always going to be a sign that the market is at least going to take a rest."
Source: dailyhodl.ocm